Air Balancers
Our air balancers are single wire rope units that offer both hoisting and floating movements at the same time. There is no jumping during operation and adjustable precise positioning up to 400 mm both for upward and downward movement.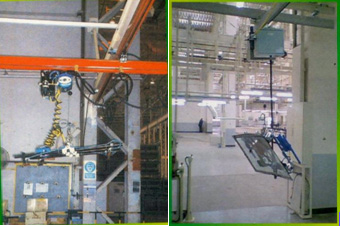 Features
Capable of lifting heavy dead weights.
High speed of 100mm/sec with adjustable speed by control valve.
Automatic self-floating interlocked with braking and lower noise level.
Safety feature with overload limit device.
Additional check valve for interruption of air supply.
No lubrication required.
Wider working range and wide variation of attachments.
Installation flexibility and versatility.
Specifications
| Model | Capacity (kg) | Lift (mm) | Dia x L of Body (mm) | H (mm) | Net Weight (kg) |
| --- | --- | --- | --- | --- | --- |
| AB-070-200 | 57 | 2000 | 160 x 405 | 600 | 25 |
| AB-100-300 | 98 | 3000 | 260 x 400 | 700 | 28 |
| AB-160-200 | 147 | 2000 | 260 x 400 | 700 | 40 |
| AB-230-200 | 213 | 2000 | 310 x 400 | 750 | 50 |