Robotic Manipulator Arm
Our Robotic Manipulator Arm provide very simple and safe means of lifting instruments by means of efficiently designed and simplified zero gravity operation.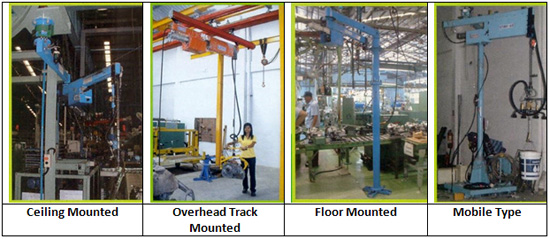 Features
All controls provided at the operators finger tips. Switch controlled motions for UP/Down, three dimensional movement, position control and balance function.
Positioning of the object can be precisely controlled.
Portable and mobile for easy relocation.
All air circuit for electricity free operation.
Safety function prevents load from falling in the event air supply interruption.
Smooth operation - No jumping
Serves a variety of applications by using various attachments.
Specifications
Model
Capacity (kg)
Vertical Stroke (mm)
Body turning
Main Unit Weight (kg)
Fixed Base Weight (kg)
Wheeled Base Weight (kg)
Short Pipe Weight (kg)
Trolley Weight (kg)
FIXED TYPE
MF-60
60
1600
360o
96
110
-
-
-
MF-120
120
1000
360o
96
120
-
-
-
WHEELED TYPE
MF-60
60
1600
360o
96
-
430
-
-
MF-120
120
1000
360o
96
-
500
-
-
OVERHEAD TYPE
MF-60C
60
1600
360o
96
-
-
15
160
MF-120C
120
1000
360o
96
-
-
20
280